If you have savings or investment plans with Metfriendly you should receive a benefit statement (also known as a bonus notice) from us by early March each year.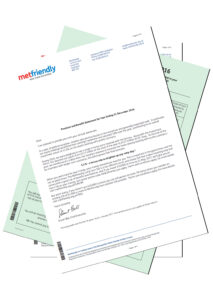 We'd like to think it's pretty straightforward to understand, but to help you out even more here's a few pointers on what to look for.
What is it?
Your Benefit Statement is basically annual summary of all the plans you hold with Metfriendly.
It is designed to give you an overall view of all your plans, how they have performed and what they are worth.
It is accompanied by a covering letter giving a brief summary of the plans you hold and what you pay in each month, a statement summarising the general performance and state of your Society and any other news or promotions that may be relevant to you.
It is followed by your Benefit Statement which may be a single page or run to many pages depending on the number of plans you have, and how long you have been a member.
Fixed Benefit Policy Details
If you have any protection plans or Guaranteed Five Year Savings Plans these will be detailed here. You will see details of policy numbers, premiums, start and maturity dates, amounts you are insured for and maturity values (i.e. what a plan is worth if you cash it in).
Conventional With-Profit Bonus Statement (CWP)
Details of savings plans such as our 10 Year Savings Plans are detailed here. Again you will see all the relevant details of any plans you hold, how much you have paid in, the annual bonus rate paid, how much money this added to your plan, and the final Sum Assured amount (i.e. what you will get if you were to cash it in).
Accumulated With-Profit Bonus Statement (AWP)
Plans such as your ISAs or With-Profit Bonds will be listed here. Like the CWP page you will see all details of your plans, the bonus rates they were awarded and how much it was worth, and the final total.
More Info
You can also find a more information about bonus rates on our website at www.metfriendly.org.uk/benefitstatement
And of course should you have any questions whatsoever about any aspect of your Benefit Statement please do not hesitate to call our office on 01689 891454.