NARPO Members
Savings plans and special offers to help you invest your lump sum
Metfriendly has savings solutions to help you take full advantage of your ISA entitlements and products to help you save with certainty.
To celebrate our 130th birthday, we're offering an extra 1.30% promotional bonus* (in addition to annual bonuses and a potential final bonus) when you invest £10,000 or more into our Lump Sum ISA.
If you've already used up your £20,000 ISA allowance for the 2023/24 tax year, this offer also applies when you invest £10,000 or more in our With-Profit Bond.
An extra-special incentive for NARPO members!
You'll also receive a £50 John Lewis gift card, when you invest £10,000 or more in our Lump Sum ISA or With-Profit Bond. Simply add the promo code NARPO2023 when you apply.
Both of the above offers end 31 December 2023. *Terms and conditions apply. 
Looking for a savings plan with guaranteed growth?
Try our Guaranteed Five Year Fixed Rate Bond.
Please call us on 01689 891454 if you would like us to help you with your application, or simply click through on the options below to get started.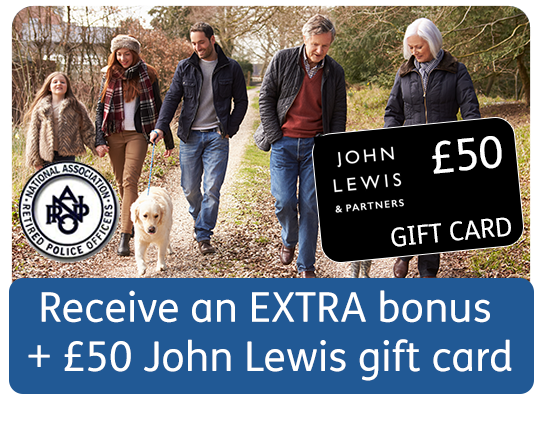 "I have been saving with Metfriendly for nearly 20 years. My children are also saving, as are family members. We know our money is safe with Metfriendly."

"Metfriendly has helped my family with saving and investments with the confidence of the added security during all the ups and downs of the financial markets over the last thirty years."

"I had numerous savings plans when I was a serving Police Officer that were a helpful and easy way to save regularly throughout my career. Now retired, I have a Lump Sum ISA as part of a balanced portfolio of investments."
Need help making financial choices?
When you retire from the Police Service, it's important to make wise financial choices and decide how you're going to support yourself and other members of your family in the future.
Join us for a FREE, no-obligation webinar to learn more about opportunities for you and your family, to help you make the most of your money.
We'll tell you about Metfriendly savings plans, including ISAs, Children's Savings Plans and how your 18-39 year old family members can get £32,000 of free money from the Government with a Lifetime ISA. There'll also be time to ask us questions and get answers. 
FREE Family Finances webinars – NARPO members welcome